With the route taking us from 2,500 m to almost 5,000 m, it offers some spectacular landscapes home to exotic plants and animals. The breathtaking view of Mt. Jomolhari from Jomolhari base camp in Jangothang is undoubtedly the highlight of the trek.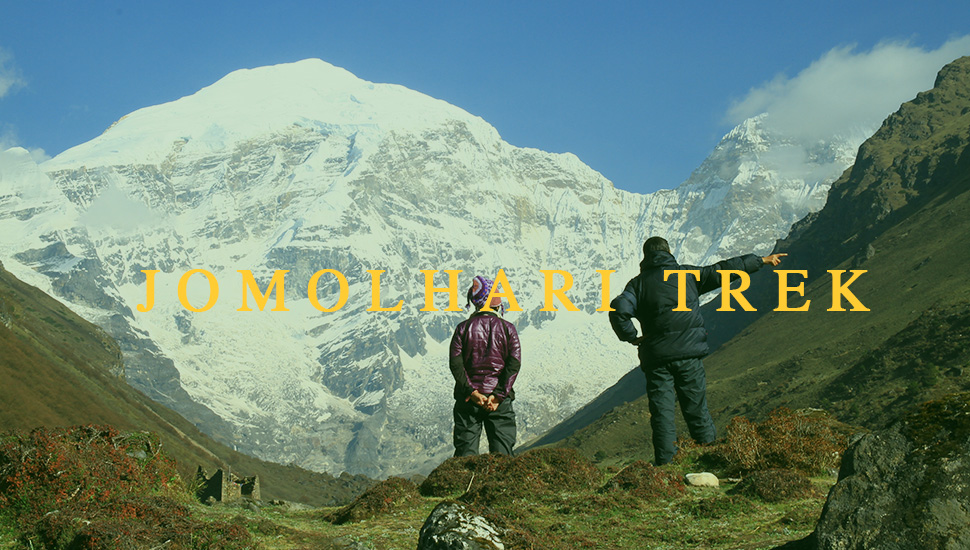 Day 1
Gunyitsawa Village to Sharna Zampa
Time: 40 mins
Trail: 80 m descent
Campsite altitude: 2,850 m
This trek begins at Gunyitsawa and passes by the army check post where the trek permit is checked and endorsed.
Day 2
Sharna Zampa to Thangthangkha
Time: 7-8 hrs
Distance: 22 km
Trail: 770 m ascent, 10 m descent
Campsite altitude: 3,610 m
Day 3
Thangthangkha to Jangothang
Time: 5-6 hrs
Distance 19 km
Trail: 480 m ascent
Campsite altitude: 4,080 m
If we arrive at the campsite early in the evening, we will be able to see Mt. Jomolhari. If not, we will see the mountain early in the morning. From here, the trek continues up the Pachhu river valley.
Day 4
Jangothang Halt
The halt at Jangothang provides plenty of time for hikes that provides resplendent views of lakes and snow-capped mountains such as Jomolhari and Jichu Drake. Here, if we are lucky, we can spot the blue sheep on the upper slopes.
Day 5
Jangothang to Lingzhi
Time: 6-7 hrs
Distance 16 km
Trail: 810 m ascent, 1,090 m descent
Campsite altitude: 3,800 m
The trail takes us across the last settlement in the valley to the Pachhu River. It then passes by Tshophu Lake at 4,380 m and climbs up sharply Bhonte La pass at 4,890 m, the highest point of the trek.
Day 6
Lingzhi to Shodu
Time: 8-9 hrs
Distance 22 km
Trail: 940 m ascent, 920 m descent
Campsite altitude: 4,080 m
The trail ascends to Yelila pass at 4,930 m. On a clear day, we can see from the pass a remarkable view of Jomolhari, Tsherimgang and Masanggang.
Day 7
Shodu to Barshong
Time: 5-6 hrs
Distance 16 km
Trail: 250 m ascent, 670 m descent
Campsite altitude: 3,710 m
The trail follows the Thimchhu River and passes through rhododendron forests and past cascading waterfalls.
Day 8
Barshong to Dolam Kencho
Time: 4-6 hrs
Distance 15 km
Trail: 290 m ascent, 640 m descent
Campsite altitude: 3,320 m
The trail descends to the Thimchhu River valley and passed through dense forests of rhododendron, birch, conifer, maples, and bamboos. It finally ascends to a pasture land where the camp is in the middle of a meadow.
Day 9
Dolam Kencho to Dodena
Time: 3-4 hrs
Distance 8 km
Trail: 500 m ascent, 930 m descent
The trail winds through forests and across a small pass. We can spot langurs along the way. We exit Jigme Dorji National Park at Dodena.
Jomolhari Trek Ends
The trek ends at Chari Monastery, 40 minutes' hike from Dodena Monastery.
Treks
1. Druk Path Trek
2. Jomolhari Loop
3. Jomolhari Trek
4. Snoman Trek
5.Punakha Winter Trek
6. Dur Hot Spring Trek
7. Yaksa Trek
8. Tshaluna Trek