Punakha Winter Trek is perhaps the easiest of the treks in Bhutan. The trail follows the old footpath between Punakha, the former capital of Bhutan, and Thimphu, the present capital. Although the trail climbs up almost 1,000 metres, the gradient is gentle and doesn't pose much difficulty to hikers.
The trek is between two modern towns, but it offers a number of bucolic scenes punctuated with spiritual and cultural landmarks. The trail passes through several villages, forests, and rice fields. The trail, which passes through Sinchula Pass, offers inviting views of Phajoding Monastery.
Hikers camp near Choeten Ningpo, an ancient choeten (stupa) linked to the Divine Madman, Lama Drukpa Kunley.
This trek is open all winter but the best time to hike along the trail is between March and May and September and November.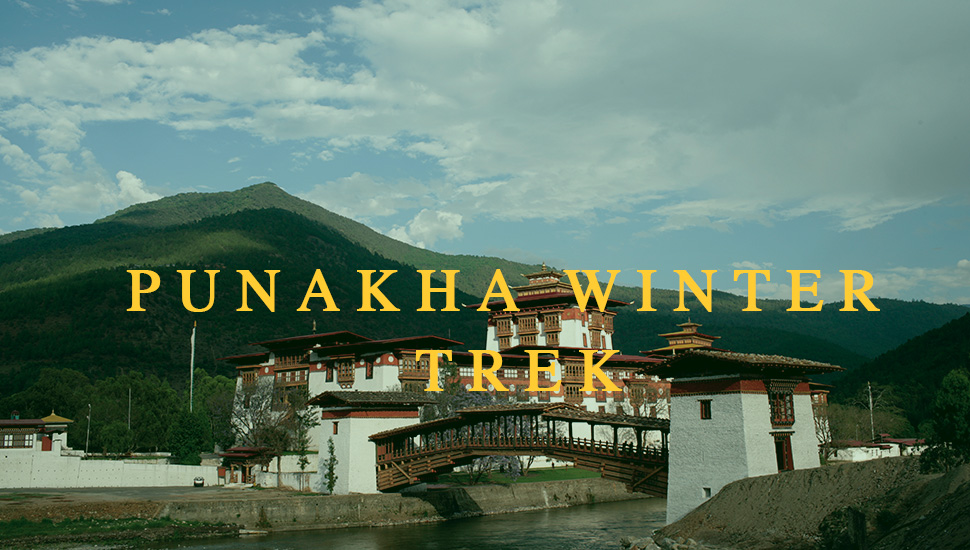 Day 1
Chamina to Dopshing Pang
Time: 7-8 hrs
Trail: Ascends 3,400 m
The trek starts from the road above Chamina village. To reach there, we have to drive towards Dechencholing Palace following the Thimphu Chhu. Cross the bridge after the army camp and before a beautiful monastery.
Day 2
Dopshing Pang to Choeten Ningpo
Time: 8 hours
Campsite altitude: 2,700 m
The trail today is gently passes through thick forests, villages, and rice fields.
Punakha Winter Trek Ends
The trek ends at Choeten Ningpo.
Treks
1. Druk Path Trek
2. Jomolhari Loop
3. Jomolhari Trek
4. Snoman Trek
5.Punakha Winter Trek
6. Dur Hot Spring Trek
7. Yaksa Trek
8. Tshaluna Trek